Healthy Can Be Beautiful
What is Building Biology?
Written by Angela Self, Certified Building Biologist | Founder + Principal, Vital Spaces
Could a home, a place of refuge and comfort, be a contributing factor in one's ill-health? Could an interior space, where more than 90% of time is spent, contribute to an inability to recover from an illness? Questions such as these inspired a revolutionary way of looking at construction: Building Biology. Whereas the heart of the movement has taken root in California, where it is widely accepted and expected, the Upstate community's increasing visibility via
media outlets and successful marketing campaigns has primed the pump for our health-oriented population to understand and implement this innovative aspect of healthy living.
What is Building Biology?
Building Biology, as defined by the International Institute of Building Biology and Ecology, is the joyful science that leads to naturally healthy, ecological homes, schools and workplaces that exist in harmony with the planetary environment. With emphasis on the word joyful, the ability to heal and assist with living one's best life is a fundamental tenet of the movement. Building Biology involves a relationship between the built environment and human health, as a means of generating a healing atmosphere. Via such outlets as clean air, clean water and minimal electromagnetic radiation, Building Biology seeks to achieve harmony in health. Founded in Germany in the 1970s, and brought to America by Helmut Ziehe, the movement espouses the building trifecta: green, sustainable and, most importantly, healthy.
Why would you not go beyond green to live or work in a clean environment? For many of us, it's like taking your vitamins or exercising – another component of vital living. However, if you have an environmental illness such as multiple chemical sensitivity (18% of the population) or electrical hypersensitivity (at least 5% of the population), a healthy environment is a primary need. Or, you may be experiencing another health issue such as headaches, allergies, asthma, respiratory problems or insomnia. For sure, if you have any illness, reducing the load on the immune system with a healthy environment will assist with healing. Children and seniors are most susceptible to environmental illness due to undeveloped or lesser functioning immune systems. It's invisible (if you can see it, you've really got a problem!) but not absent. Just because you can't see it doesn't mean you are not being affected. We have all heard of sick buildings. If a building is sick, then it is very toxic. Sadly, most indoor spaces are sick to some degree. On average, indoor air quality is 5-10 times more polluted than outdoor air. And, the EPA cites indoor air quality as a Top 5 Health Risk.
The 2014 McGraw Hill Construction Smart Market Report investigates the connection between buildings and health, and reports a definite link between buildings and health. Nonresidential building owners cite numerous benefits of healthy buildings: 47% report healthcare cost reductions, 66% report improved employee satisfaction and engagement, 56% report lower absenteeism, and 21% report higher employee productivity. One of the big goals of the report is to get medical professionals to fold recommendations about their patients' environments into their care policies.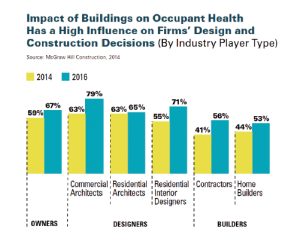 Building Biology would like all interior spaces to be healthy but stresses the importance of sleeping areas. This is because the body is in "healing mode" while sleeping and is 10-100 times more susceptible to any toxin or electromagnetic frequency while sleeping. At minimum, clean up your bedroom as your body can handle more stress during the day if allowed to heal while at rest.
Are you being inundated by electric fields, magnetic fields and radio frequency? Did you know wireless radiation genetically modifies all living things? Because this is the area of Building Biology that is least understood, it will be the next topic covered in this educational series on creating your healthy home sanctuary. You deserve to live your best life.