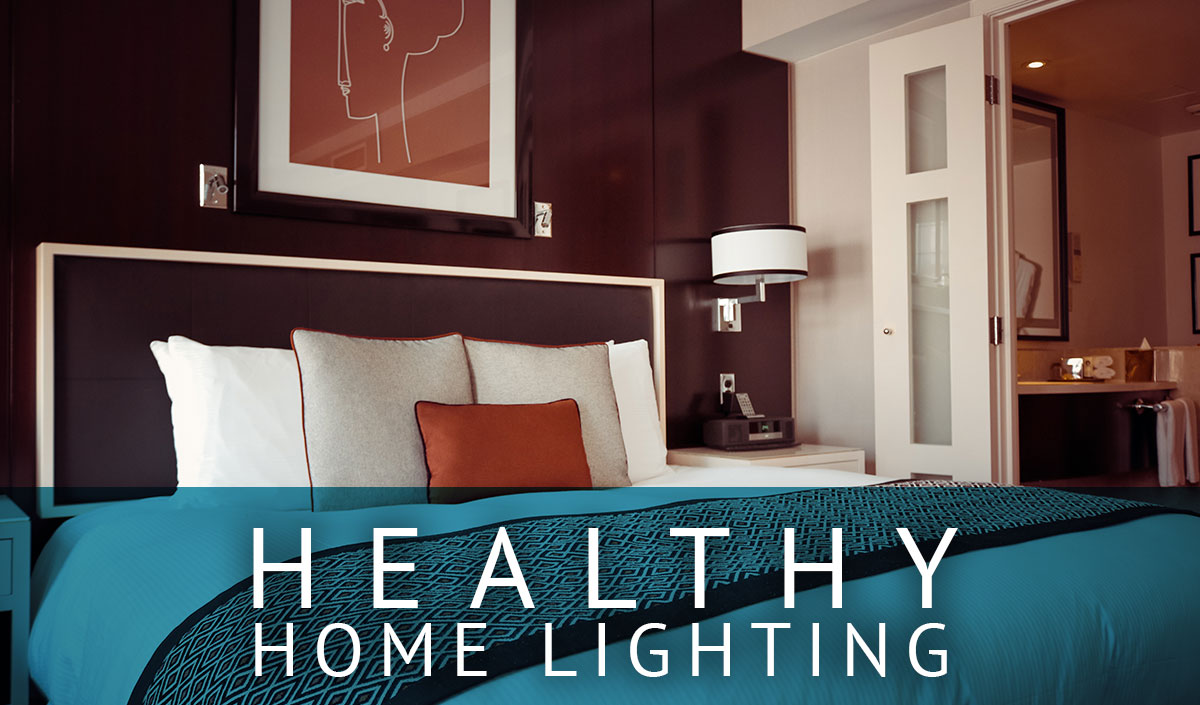 Lighting in your home can affect your health.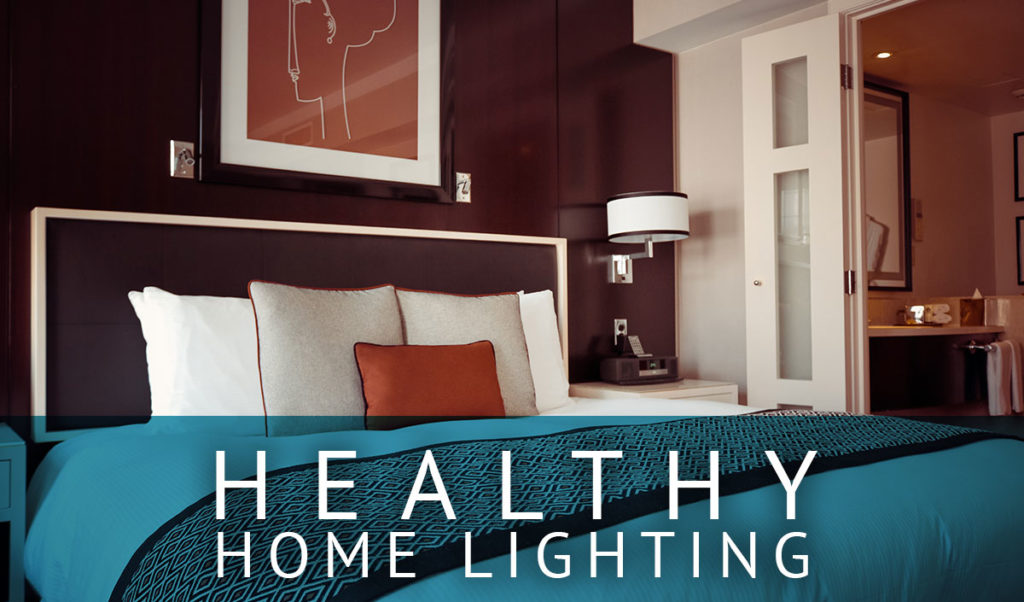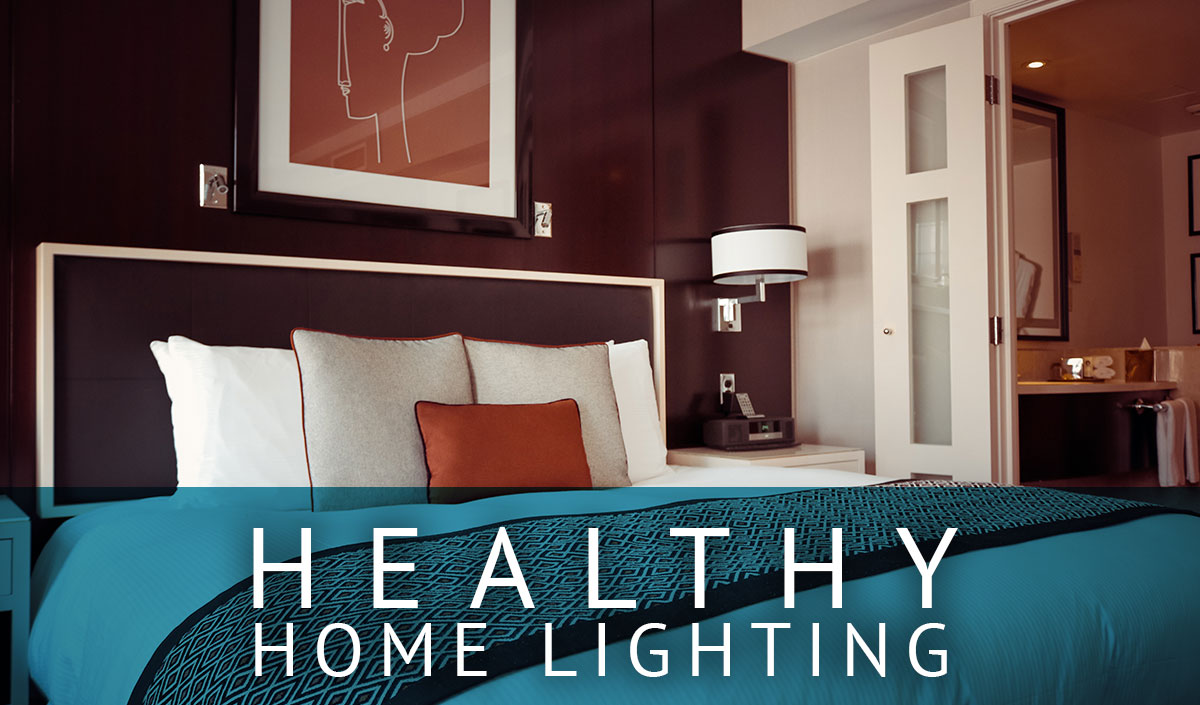 Do you ever think about lighting and how it affects your health? Not only is lighting extremely important in creating a particular atmosphere, but it is also affecting your health. Most people know that healthy home lighting can affect melatonin levels and sleep, but did you know it could also affect cortisol, asthma, and even blood sugar balance? And by the way, if you did not know this: melatonin is some of our best free-radical scavengers and cancer fighting protection.
Last month we discussed lighting geared toward workplaces and discussed the components of lighting. The information in that post is geared toward healthy office lighting, but many of the principles are applicable to healthy home lighting as well. Click here to revisit that office lighting post and review lumens, color temperature and color rendering index.
Keep in mind lower Kelvin temperature is warm and cozy while higher Kelvin values are more like daylight, which is invigorating. The higher the temperature, the more blue is in the light, which increases mental alertness and reduces melatonin.
A Side Note About Melatonin and Sleep
Electronic screens emit blue light which is one of the reasons using technology in the evenings and/or before bed could disrupt your sleep.
Have you been strong-armed into using CFL (compact fluorescent) bulbs because you've heard they are green and consume less energy? Not so fast. CFL bulbs create dirty power on your wiring system. You could install filters to remove this interference, but these filters are still controversial as they sometimes increase other types of electromagnetic radiation. Plus, the electricity used by the filters would cancel out any type of energy savings offered by CFLs. That's dealing with normal operation. But what about when you break a CFL bulb? The mercury released actually creates a hazardous waste area! Yikesola. They are very toxic. If — or in our experience when —you break a fluorescent bulb, we recommend you seal off the area, open a window and leave immediately. You can return 24 hours later for clean up after all has settled. Studies show if a fluorescent bulb is broken on carpet, you can never completely remove the mercury. Plus, in our opinion, they are pretty ugly and the light they emit is simply not attractive.
And while we are on the subject of fluorescent lighting, they really are not a healthy source of lighting as they are shown to cause migraine headaches (http://www.livestrong.com/article/122360-health-effects-fluorescent-lighting/) and eye disease (https://www.ncbi.nlm.nih.gov/pmc/articles/PMC3222423/).
Conventional wisdom on "green" lighting isn't all it's cracked up to be. What do we do?
Remember those good ole incandescent bulbs? Yep those! They work just fine, the light is good and they don't cause health issues. In the home, standard incandescent bulbs are great! LED lighting is another option. LEDs are generally better than CFL bulbs, but consider these two things:
Some are worse than others, but our friends at Healthy Building Science have done some testing (http://healthybuildingscience.com/2013/09/10/emi-and-leds-not-all-leds-are-the-same/) and it appears that CREE LEDs are best.
Be aware of Line Voltage vs. Low Voltage. "What?" you might say. Line voltage is the standard voltage found in outlets and junction boxes (examples include lamps, and most ceiling fixtures) while low voltage uses a transformer to step the voltage down from 120 volts to 12 volts.
Many recessed can lights are low voltage, as are task lighting, desk lighting and LED strips. Do we love having this kind of lighting for working or just creating a mood? Of course we do! However, it comes at a price, and that price is magnetic fields. If you choose this type of lighting, place the driver/transformer away from locations where you spend a lot of time
---
Well friends, there's still a chill in the air where we are, so w're headed to light our EcoSmart non-toxic bioethanol fire. We have to admit fire light might be our favorite source of lighting!
Cheers to living healthy!
---
https://vitalspacesnow.com/wp-content/uploads/2017/03/healthy-home-lighting.jpg
705
1200
Angela Self
https://vitalspacesnow.com/wp-content/uploads/2019/05/vital-spaces-2019-logo.png
Angela Self
2017-03-06 11:36:50
2017-03-06 17:01:21
Healthy Home Lighting Makes a Difference in Your Home