We'll get to the details and photos from our latest office renovation project.
(If you just can't wait to see the results, watch this video slideshow of the results!
But first, let's clue you in on a little "secret." Well, maybe it's not a secret. But you may not have known it already. Are you sitting down? Here it is…
Vital Spaces can provide project management for commercial and residential projects.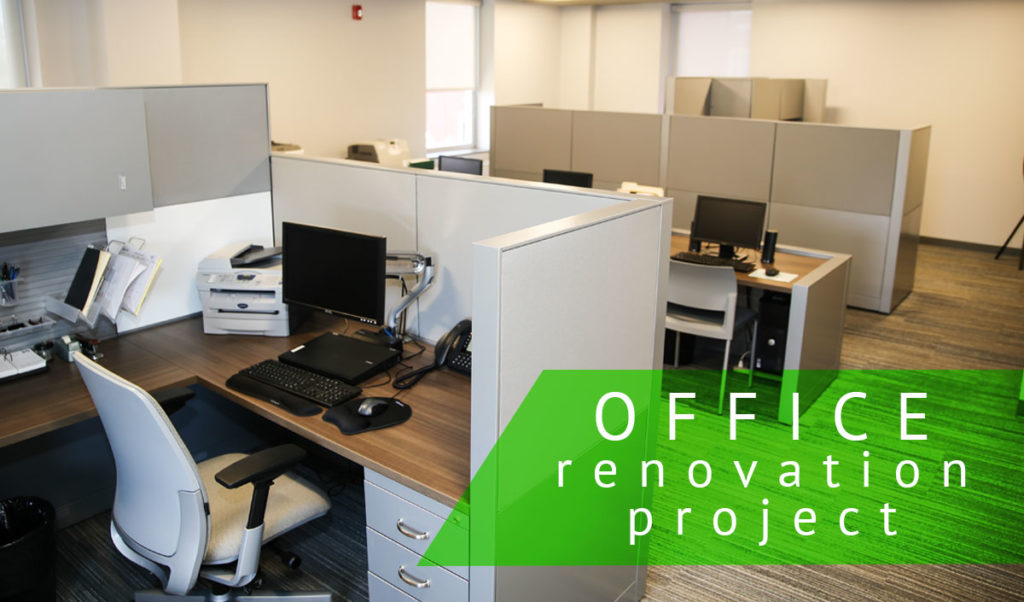 Okay, maybe it is kind of a secret. We post most often about several topics we really feel have life-changing potential: reducing exposure toxins, managing electromagnetic interference, gaining optimal health, and more. But did you know our Founder + Principal Angela Self is a licensed builder? Yep. There's a fairly extensive body of knowledge and experience that underpins our work as a building biology company. It just so happens that this unique skill set makes Vital Spaces an ideal partner to provide intelligent, health-optimized project management for commercial and residential remodeling projects. Our latest office renovation project was a joy, and we are excited to share the results with you.
Here's Our Latest Commercial Renovation Project
"Extreme Makeover-worthy" is how eTextile Communications labels our most recent and exciting office renovation project for a textile company, Greenwood Mills, Inc. Here's their full post:
---
Why did we love this office renovation project so much?
Many aspects were great but we will pare it down to the top five.
1) The Transformation
And it was … quite a transformation. Transformations always seem magical, and this one was all that and more. As they say, pictures are worth a thousand words.
Here are some photos from BEFORE the office renovation project:
And here are a few photos from AFTER the office renovation project:
2) The Beauty
Wow, is this space ever gorgeous! It's an open floor plan with lots of glass, beautiful refinished concrete floors, specialty lighting, a "Glam" kitchen, modern but comfortable furniture, and artwork/accessories to make you feel "At Home At Work."
Gray was our base shade on walls complemented with luxurious shades of blue and green. We used high-impact tile in the kitchen and restrooms and brought in primarily new modern desking but accented with some historical pieces from this textile company's rich history.
And check out the door hardware! The loom shuttle replicas to tie together what this company is all about.
Reclaimed wood and stone greet you as you enter this space: a space to represent the future of a longstanding business committed to not only recruiting new talent but also ensuring workplace satisfaction to retain valued employees.
3) The Functionality
As this office was designed with Millennials in mind, collaboration spaces were key. This generation prefers open areas to meet versus sitting in an office, so we created the space to host impromptu and scheduled meetings.
And take a peek in modern offices these days: you will see modern, even funky, furniture where one can get comfortable working, almost like home. We incorporated sofas and other upholstered chairs to bolster this trend.
Technology… that's a given right? Absolutely. I'm convinced the board rooms in this office could communicate with other planets. Okay, I'm kidding, but they are super cool. Of course they are designed with all the typical presentation functionality, but we love the feature which can set music, lights, and window shades at the touch of a button. Heck, you never know when you might need to switch from presentation mode to project celebration mode in an instant! Now that's a multi-tasking office of the future!
4) The Green + Health Components
Because our Founder + Principal Angela Self is a certified Building Biologist, incorporating healthy features really excites us, but more importantly: incorporating health is a top workplace trend. Here are few of the ways we made this office renovation project healthier and greener:
Ceiling. The ceiling tiles are the Calla series by Armstrong, which are 76% recycled, provide better air quality through reduced volatile organic compound (VOC) emissions and Living Building Challenge compliant.
Hydration. Our water bottle filling stations are not what you see in most buildings because those are only filtering one toxin (generally lead) and there are thousands of toxins in tap water. The ones in this office will give you some of the cleanest, healthiest water possible.
Paint. We used Ecos Zero VOC Paint. While many paints advertise zero VOC, they can still contain harmful chemicals because they are not required to be identified on the label. This company excludes these harmful chemicals, and although our painter had never used these paints, he let me know he loved using these products.
Combination Nursing/Peloton Room. A Peloton is an indoor bike with a screen that offers all sorts of on demand workout programs.
Carpet. You'll notice we did not do much carpet. Carpet decreases air quality — even new carpet materials are high in VOCs and toxins. Carpet has the ability to hold in all sorts of toxins, especially anything on the bottom of your shoes. Studies (and common sense…) show there are thousands, even hundreds of thousands of chemicals, toxins, germs, etc. routinely found on the bottoms of shoes.
Lighting. Studies show offering as much natural light as possible improves employee satisfaction and performance. We used a new technology called tunable lighting. That means we can change the color temperature and brightness of the LED fixtures to mimic times of day and natural light.
5) The Fun!
You've heard the quote: "Love what you do and never work a day in your life." It's our absolute belief that work should be fun. And that's just what we did.
[x_image type="rounded" float="none" src="https://vitalspacesnow.com/wp-content/uploads/2017/08/office-renovation-project-team.jpg" alt="GMI Office Renovation Project Team" title="GMI Office Renovation Project Team" info="tooltip" info_place="top" info_trigger="hover"]
https://vitalspacesnow.com/wp-content/uploads/2017/08/green-office-renovation-project.jpg
705
1200
Angela Self
https://vitalspacesnow.com/wp-content/uploads/2019/05/vital-spaces-2019-logo.png
Angela Self
2017-08-30 10:21:57
2017-12-06 21:26:42
Office Renovation Project with Jaw-Dropping Results (Before & After)