Clearlight Saunas Heal with Heat!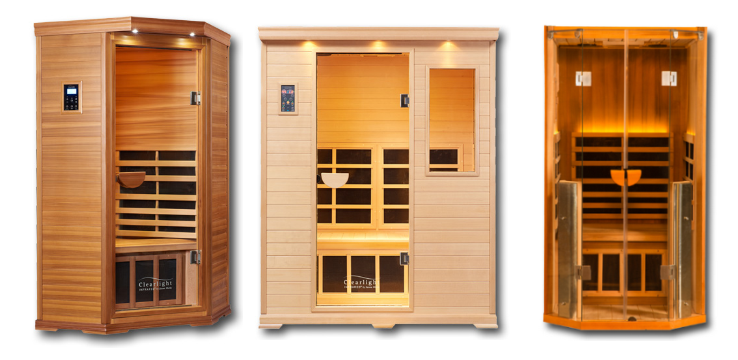 Clearlight – The only Sauna with:
Low EMF high performance carbon-ceramic heaters
Eco-Certified sustainably harvested solid woods
Powerful Full Spectrum heaters in Sanctuary saunas
100% True Lifetime Warranty on the entire sauna!
Designed by doctor with a focus on healing the body
Doctor Designed – Proven Results:
Detox heavy metals and toxic chemicals
Reduce muscular pain and arthritic inflammation
Lower blood pressure and improve heart health
Rejuvenate your skin ~ look years younger
Relaxation, stress relief and deeper sleep
Read what the experts are saying:
Sauna Therapy for Detoxification and Healing by Lawrence Wilson Infrared sauna therapy is one of the least costly, safest and most powerful ways to eliminate toxic metals, toxic chemicals and infections.

The Detox Strategy: Vibrant Health in 5 Easy Steps by Brenda Watson Raising your body's core temperature does more than just assist the detox process. It has also been shown to have a favorable impact upon the immune system. It is one of the few known ways to stimulate increased production of growth hormone, which helps your body shed fat, while maintaining lean muscle mass.
Detox or Die by Dr. Sherry Rogers There is now no question that accumulated toxins are behind nearly every disease, symptom, injury and malfunction of the body. But get ready for the greatest medical discovery of the decade. If we get these ubiquitously unavoidable toxic chemicals out of the body, we can reverse and even cure the most hopeless diseases. What is the best way to get rid of toxic chemicals including pesticides, heavy metals and hydrocarbon residues? The Far-Infrared Sauna.
True Wave II Carbon/Ceramic Far Infrared Heating Technology
Not all far infrared sauna heaters are the same. The size of the wavelength and the amount of infrared heat given off by the heater varies greatly from one heater type to another. Some infrared sauna heaters produce high quality infrared heat, but do not emit a lot of infrared. Some heaters produce a lot of infrared heat, but the quality of the infrared heat is not very good.
Only the patented True Wave II infrared sauna heaters combine the high quality infrared heat of Carbon and the high infrared output of Ceramic to produce the most effective infrared heat, bar none.
* This button links offsite. When you call or email, be sure to reference Vital Spaces for the best pricing and service. Call Clearlight Saunas at 800.317.5070, send email to clearlightsaunas@gmail.com, or use the website price request form in their right sidebar.