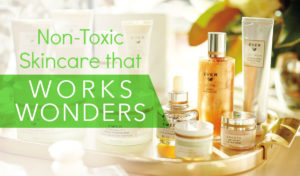 Non-toxic skincare is something I'm passionate about. But it wasn't always the case! I'd love to tell you more, but first, a confession:
I was addicted to products.
I'm talking about skin care products here. And anti-aging products. I was addicted to those kind of things — I admit it. That's the first step right?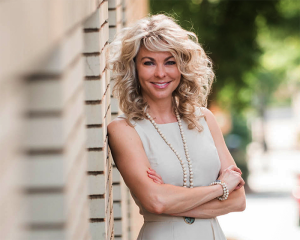 I used to be the person who felt I needed to add the newest best thing to my routine every time a "revolutionary" skin care product showed up on the market. And the products added up. I wasn't worried about non-toxic skincare; I just wanted whatever promised results. My cabinet overflowed. That was bad enough…but the worst part? Trying to wash my face enough times each day to fit them all in or having the time to use them in one washing. Whew! Calgon® take me away! And on top of all that my increasing knowledge of toxins was causing stress. A building biologist + health fanatic knows just how dangerous toxins they can be when applied to our largest organ: the skin.
Calgon® didn't take me away but Ever did.
Ahhhhhh. Not only does Ever offer a line of non-toxic skin care; it actually works. Unbelievably well. All the other chemical products did not fade my melasma. But Ever did … success! I just cannot quit being excited about this amazing new non-toxic skin care line.
So just how does this work? Let me tell you!
Cellular inflammation is one of the major causes of aging, and it comes from exposure to UVA/UVB rays, dehydration, diets filled with refined sugar and white flour, and lack of sleep. However, a solution was discovered in a potent botanical with immense health benefits dating back to 100 A.D. – Magnolia Officinalis. Using this key ingredient, the Ever science team developed a patent-pending, bioactive complex of three molecules scientifically formulated to reduce the top 10 visible signs of aging. It's called LSR10™. And just what does this do? It reduces the top 10 visible signs of aging:
Lines and wrinkles
Loss of elasticity and firmness
Spots and pigmentation
Redness
Loss of radiance
Uneven texture and roughness
Uneven skin tone
Dull skin tone
Dehydration
Thin skin
Honestly, most of us would probably risk it with any number of toxic products if we knew they would combat those signs of aging. But I'm oh-so-grateful that we don't have to, thanks to Ever!
How do you get this fabulous new non-toxic skin care?
If you already have a handle on your skincare routine and you want to swap out what you're using for Ever, just visit our store and get what you need.
---
Not sure where to start? Call us at 864.980.3341 to get your questions answered. We recommend getting the regimen + eye cream. It's easy, non toxic, and it really works. Worrying about skin care products is now over. This could be a love affair. <3
https://vitalspacesnow.com/wp-content/uploads/2016/04/non-toxic-skin-care.jpg
705
1200
Angela Self
https://vitalspacesnow.com/wp-content/uploads/2019/05/vital-spaces-2019-logo.png
Angela Self
2016-06-09 19:09:42
2016-06-30 21:50:42
Non-Toxic Skincare that Works Wonders…Are You Ready?!